Faded Theme

Features
Upload Your Logo
You can upload your own logo with this theme by logging into your WordPress admin and selecting "Theme Options".
MP3 Streaming
You have music and your audience wants to listen. Stream your MP3s directly using the built-in album widget.
Videos
Easily post videos to awesome looking sidebar widgets or video pages. Videos are a great way to showcase your music on your website and connect with fans.
Twitter Feeds
Fans love connecting to band members and personal Twitter accounts are a great way. That's why the homepage pulls in each member's Twitter feed from the last 30 days.
Social Media
Link to your social media links with great design and style that matches the rest of your site. There are built in links to Facebook, Youtube, Twitter and more.
Photo Albums
Post your photos from live shows, studio, promo or anything else. Your fans will enjoy keeping up with you and commenting on your images.
Design Files Included
Photoshop files used to create this design are included so you can easily change and modify design elements and re-upload them.
Similar Themes.
Foodie is a blogging theme with a focus on food. Whether you are a seasoned chef, or just getting…
The "Intro" theme is a Portfolio based theme for WordPress. When designing it, we made sure it would have…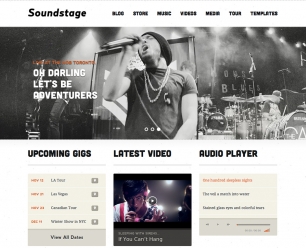 Making a good first impression online is huge in how bands are perceived. The Soundstage theme for bands will…