Our Customer Support Report Card (Jan 2013)
This year one of our top priorities is to greatly improve our customer support and we want to be accountable to our customers and be as open an honest as we can with how we conduct our business. We want to be known for our customer service and support and in doing that we want to tell our customers how we're doing.
We think the only way to do that is to monthly report on how our support response time is and our satisfaction rating and over time we can set goals on improving the numbers that we disclose.
There are two main metrics that we can use to show how we are doing on our report card, first the time it takes us to respond to customer inquiries and the satisfaction rating that our customers give us on each support request.
Our Time To Respond
We are committed to responding to customer inquiries within 24 hours of getting a message sent into our support system. We are doing that but we really want to improve this number over the next month. As you can see from the graph below 31% of all support requests get answered within 1 – 8 hours which is pretty good, but overall we need to improve this number.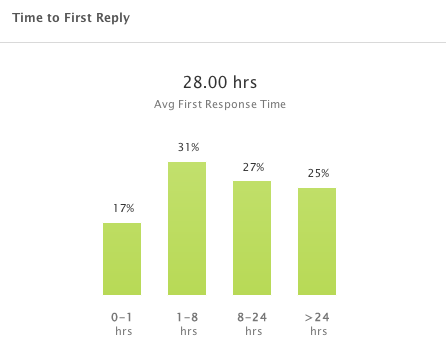 Our Satisfaction Rating
Using the analytics within ZenDesk we can gage how we are doing overall and how happy our customers are with us. The satisfaction rating shows how we are doing within our industry which is web applications, and as you can see from this graph we are doing better than our peers but theres always room for improvement.