Malachi Theme

Features
Upload Your Logo
You can upload your own logo with this theme by logging into your WordPress admin and selecting "Theme Options".
Map and Directions
One of the main things users look for on a church website is it's location. On this theme, the directions and a link to a map are featured prominently at the very top of each page.
Homepage Image/Video Slider
Churches have a lot of media to share, and the slider on the homepage is the perfect place to do that. It can feature images or videos.
Sermons
Easily post your sermons including mp3's, text, and images for people to download or stream right on your website.
Podcasting
After you've uploaded your sermons, you'll also automatically have a podcast ready to sync with iTunes. Just go through a few settings in the "Theme Options" area and you're all set.
Social Links
There are social links built right into this theme to give a great looking design to links like Facebook, Twitter, YouTube and more.
Design Files Included
Photoshop files used to create this design are included so you can easily change and modify design elements and re-upload them.
Similar Themes.
Foodie is a blogging theme with a focus on food. Whether you are a seasoned chef, or just getting…
The "Intro" theme is a Portfolio based theme for WordPress. When designing it, we made sure it would have…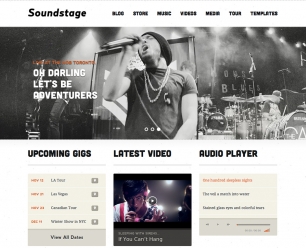 Making a good first impression online is huge in how bands are perceived. The Soundstage theme for bands will…